---
6X6-05P
| | |
| --- | --- |
| TYPE: | Armored Vehicle |
| DESCRIPTION: | Armored Vehicle Type 05P |
| PRICE: | Upon Request |
| PACKING: | Ex-Works |

armored vehicle type 05p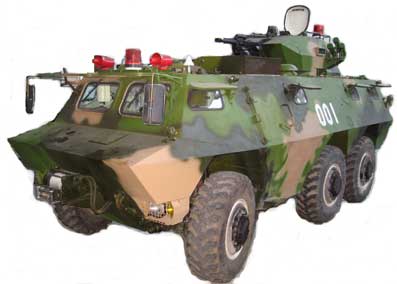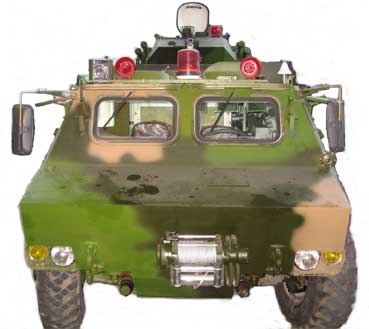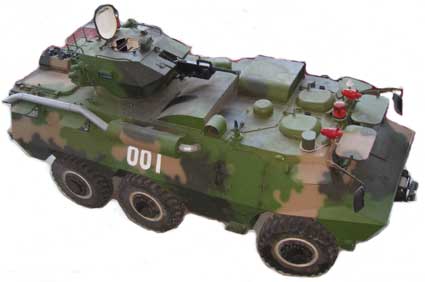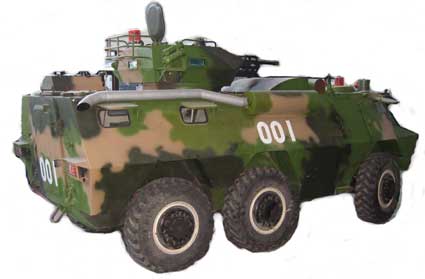 Description
The armored vehicle Type 05P (WZ523M) is a modified version from the armored vehicle Type WZ523
In order to make it adapt better the desert area, the company changed the engine from WZ523 (air cooling) to a water cooling engine
The vehicle Type WZ523 has already gained a high reputation in the foreign markets

The vehicle Type 05P can accomplish the commando mission (attack and defense) in the armed conflicts and the mission of rapid deployment, emergency rescue, and anti-airdrop in the local conflicts.
Features
● All Wheel Drive 6 x 6
● High Cross-country Ability
● Powerful Water Cooling Engine
● Solid Protection
● Powerful Fire System
● Excellent Mobility
General Specification

● Dimension: 6330 x 2500 x 2800 (mm)
● Total Combat Weight : less than 11.7 T
●
Crew: 11 (including 3 in the cabin and 8 in the vehicle

body)
● Propelling mode: wheel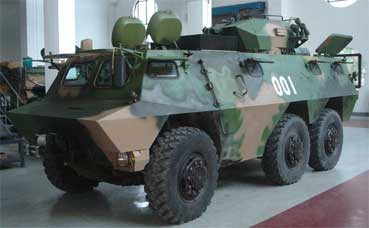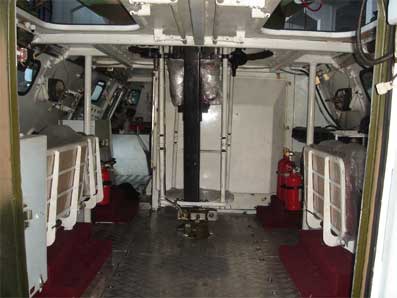 Armement
● Armaments
12,7 mm Type Machine gun Type QJC88, 35 mm Grenade Launcher Type QLZ87A (optional) , 76 mm Smoke Grenade Launcher Type 85 and soldier arms
● Field of fire :
Horizontal: 360
°
Vertical: - 6
° + 85°
● Firing Range:
12,7 mm Type Machine gun Type QJC88
: 1600 m;
35 mm Grenade Launcher Type QLZ87A
: 1750 m
● There are 5 hole on the two sides and in the rear end of the vehicle for the soldiers' surveillance and fire
Engine
● Engine Type : YC6A240-10 (diesel)


● Maximum Speed in Water: 4 Km/Hh

● Straight-edged Ditch: 800 mm

● Braking Distance (30 km/h): 9000 mm

● Maximum Road Range: 600 Km

● Propellant Mode: Slide by wheels
Protection Capacity
● The front of the Vehicle can resist the 7,62 mm ball API within 100 m
● The sides of the Vehicle can resist the 7,62 mm standard ball cartridge
● A Fire extinguish System is installed in the engine cabin
● The 6 Smoke Grenade Launcher can make together a smoke Screen of 70 m wide and 50m deep within 3~5 second in 100 m in front of the Vehicle
Communication
System
● A VHF radio and a digital radio are installed in the Vehicle to guarantee the communication with inside and with outside of the Vehicle

● Specifications of the Communication System :

Frequency: 30 to 87.975Mhz

Power Output: No less than 30W

Frequency Hoping Speed: 203 coups/s

Communication Range: 20 to 25 Km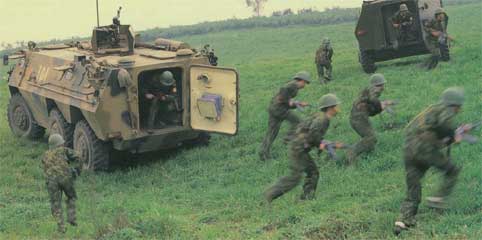 Specification and photos are not contractual and are subject to verification upon inspection
TAKE NOTICE!
PLEASE BE ADVISED THAT INFORMATION INCLUDED IS CONFIDENTIAL IN NATURE AND IS BASED ON PRE-EXISTING BUSINESS RELATIONSHIP WITH THE LEGAL OWNER OF PROPERTY DESCRIBED HEREIN (IF APPLICABLE). AS SUCH, UPON RECEIPT OF SAID INFORMATION THE RECEIVER ACKNOWLEDGES THAT ANY UNAUTHORIZED CONTACT WITH SAID LEGAL SELLER WILL BE CHARACTERIZED AS A BREACH OF CONFIDENTIALITY AND SAID AGREEMENT MAY BE ENFORCED UNDER EXISTING LAW OR IN EQUITY.
This paper was prepared by General Equipment Corp.
The paper represents an offer of a partner of General Equipment Corp.
All rights are reserved by and for General Equipment Corp..
All content and ideas of this paper are the property of General Equipment Corp.
---
Defense items are subject to final destination approval and granting of an
export license issued by exporting country's authorities