---
4AMBPU
| | |
| --- | --- |
| TYPE: | Ambulance |
| DESCRIPTION: | MTC Mobile Treatment Center |
| PRICE: | Upon Request |
| PACKING: | Upon request |
MOBILE TREATMENT CENTER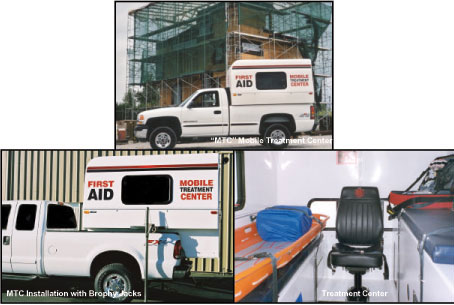 Saving Lives, Saving Money
W
orkers in hazardous occupations in remote areas face multiple dangers
Their remote locations make access to needed medical care much more difficult and time consuming
Minutes and hours after a serious accident are very critical and may mean the difference between life and death Ambulances coming from distant cities are expensive, frequently get lost and are slow to respond
The "MTC" Mobile Treatment Center provides a cost effective solution to quality emergency care and transportation needs for larger crew sizes
Furnished with basic first aid equipment and available at all times near workers, it provides fast response and safe transportation
Treatment centers are easily mounted on any full size pickup truck and provide a more sensible solution than a permanently dedicated vehicle
Major Benefits...
·
Cost effective solution to quality emergency care and transport needs
·
Transferability between trucks… Slides into any full-size pickup truck
·
A low cost alternative to a permanent single purpose vehicle
·
Industrial fiberglass construction designed for off road 4X4 use
·
Space for two injured and an attendant
·
Light weight only 1,175 lbs. (534 Kg.)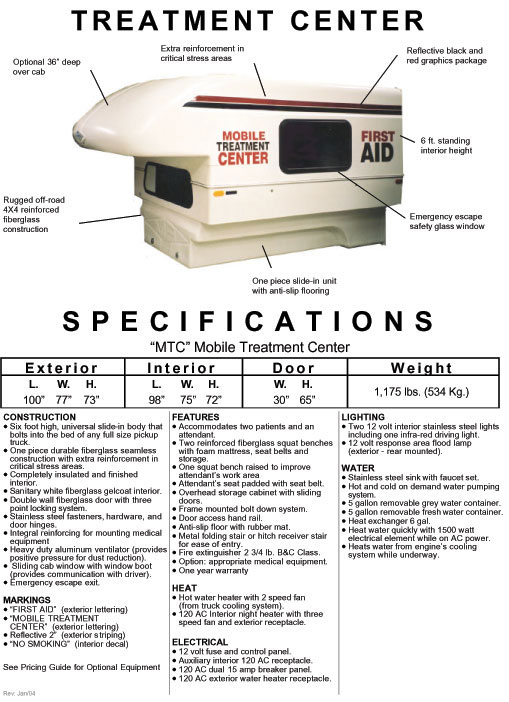 Specification and photos are not contractual and are subject to verification upon inspection
TAKE NOTICE!
PLEASE BE ADVISED THAT INFORMATION INCLUDED IS CONFIDENTIAL IN NATURE AND IS BASED ON PRE-EXISTING BUSINESS RELATIONSHIP WITH THE LEGAL OWNER OF PROPERTY DESCRIBED HEREIN (IF APPLICABLE). AS SUCH, UPON RECEIPT OF SAID INFORMATION THE RECEIVER ACKNOWLEDGES THAT ANY UNAUTHORIZED CONTACT WITH SAID LEGAL SELLER WILL BE CHARACTERIZED AS A BREACH OF CONFIDENTIALITY AND SAID AGREEMENT MAY BE ENFORCED UNDER EXISTING LAW OR IN EQUITY.
This paper was prepared by General Equipment Corp.
The paper represents an offer of a partner of General Equipment Corp.
All rights are reserved by and for General Equipment Corp..
All content and ideas of this paper are the property of General Equipment Corp.