GENERAL EQUIPMENT CORPORATION INC.

8724 Sunset Drive #191● Miami FL 33173 · USA


Email: info@generalequipment.info ● www.generalequipment.info
---
30MM165
| | |
| --- | --- |
| TYPE: | Ammunition |
| DESCRIPTION: | 30 x 165 mm Round |
| PRICE: | Upon Request |
| PACKING: | Ex-Works |
30 x 165mm round
TECHNICAL NAME: 30x165 mm round with HE-T projectile
CIVIL NAME: 30x165 mm round with HE-T projectile for Automatic Gun GSh-6-30K (AO-18) or 2A42 I 2A72
DESCRIPTION: The 30 x 165 mm Round with High Explosive Tracer Projectile is intended to engage air targets.
The round is fitted with distance-armed, delayed action, self-destruct fuze.
The ammunition is safe in transport, storage and handling and ensures the reliable performance of the gun systems in all weather conditions.
The 30 mm GSh-6-30K, GSh-6-30L and 6K30GSh automatic air-defence guns and their modifications are mounted on the following shipboard gun mounts:
- AK-630
- Ak-306
- KASHTAN Air-Defence Complex
PACKING:
Standard: 54 rounds in three air-tight sealed metal boxes in a wooden case with dimensions:
860 x 380 x 220 mm
Gross weight: 60 kg
Volume: 0.072 m3
Optional: 25 linked rounds in one metal box with dimensions:
375 x 245 x 340 mm
Gross weight: 37 kg
Volume: 0.0312 m3
TECHNICAL DATA :

BASIC CHARACTERISTICS

Caliber, mm

30x165

Fuze arming distance, m

20 to 100

Self-destruction time, s

7,5 to 14,5

Operational temperature range, °C

-50 to +50

Shelf life, years

15

ELEMENTS OF ROUND

Projectile

high explosive tracer

Fuze

A-670M and modifications

Explosive filling

A-IX-2 (RDX)

Propellant

6/7 fl

Cartridge case

steel

Primer

EKV-30M

BALLISTIC DATA

Muzzle velocity, m/s

880 - 905

Average pressure, kgf/cm2

max. 3200

Maximum range, m

4000

TECHNICAL DATA

Weight of round, kg

0,830

Length of round, mm

max. 292

Weight of projectile, kg

0,385

Propellant charge mass, g

118

Burning time of tracer, s

not less than 10
---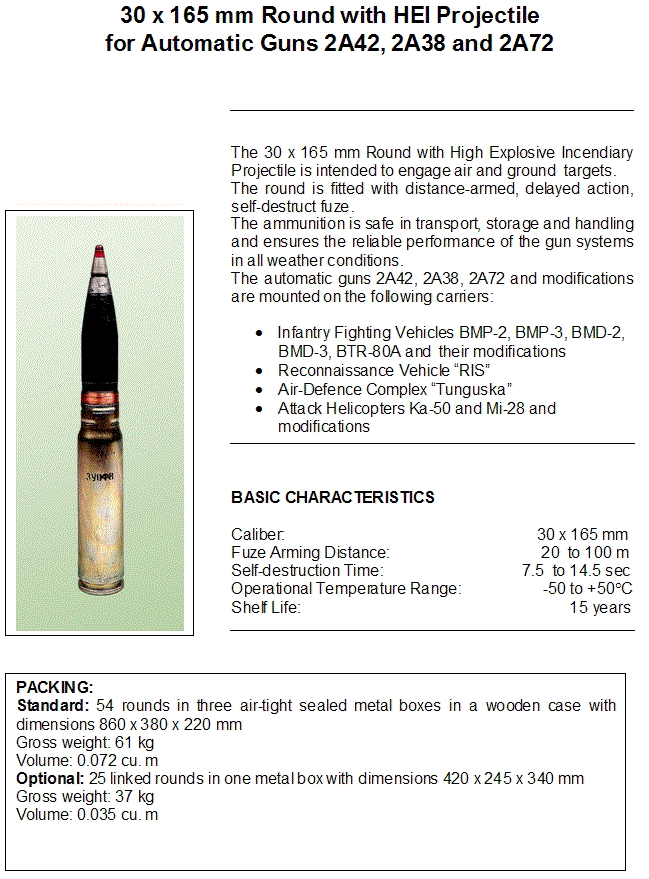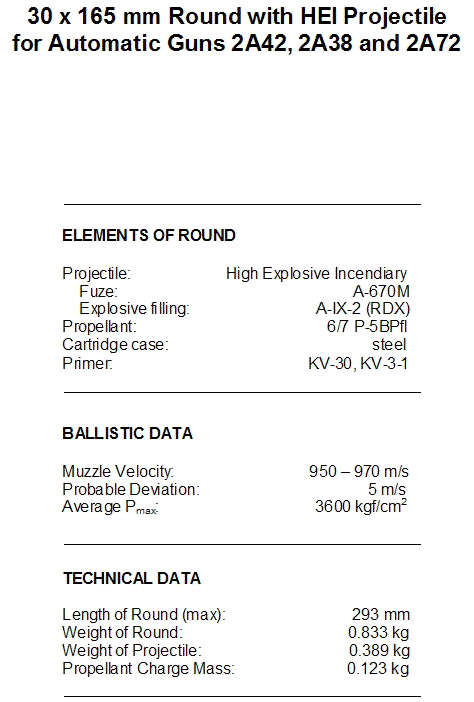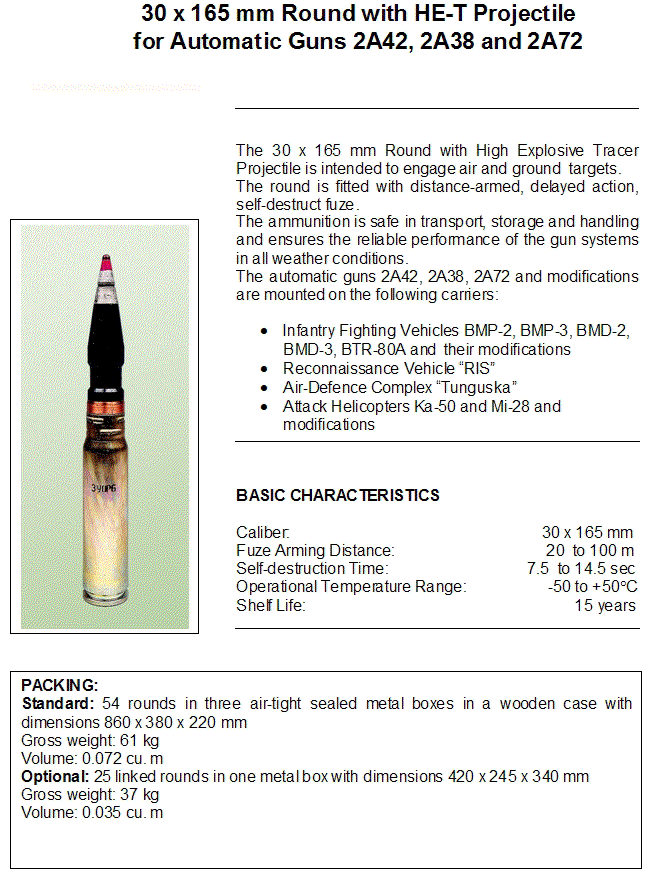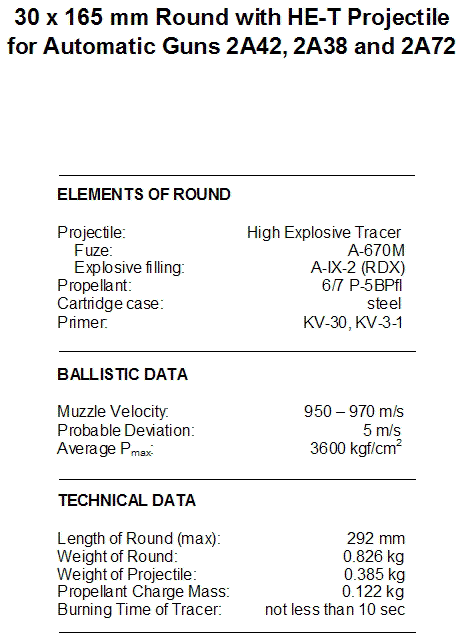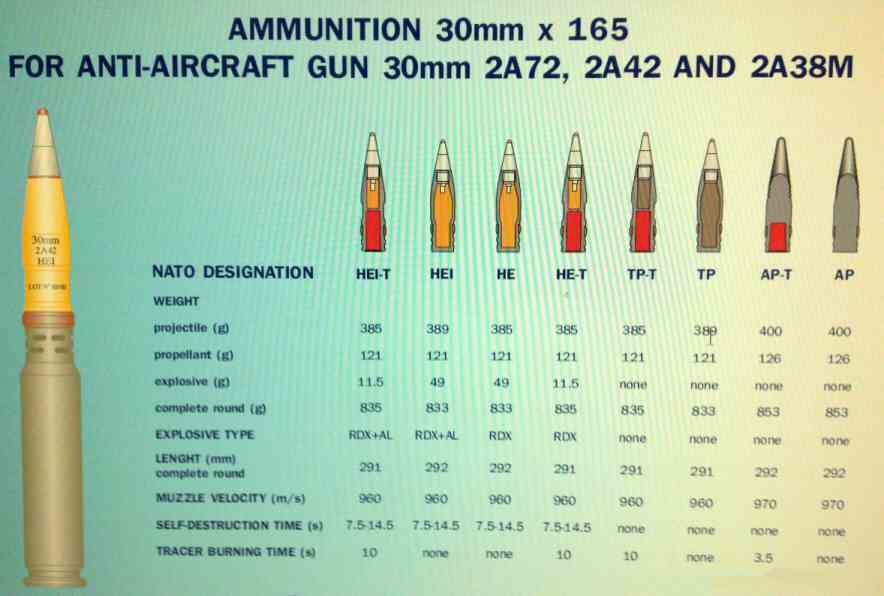 Specification and photos are not contractual and are subject to verification upon inspection
TAKE NOTICE!
PLEASE BE ADVISED THAT INFORMATION INCLUDED IS CONFIDENTIAL IN NATURE AND IS BASED ON PRE-EXISTING BUSINESS RELATIONSHIP WITH THE LEGAL OWNER OF PROPERTY DESCRIBED HEREIN (IF APPLICABLE). AS SUCH, UPON RECEIPT OF SAID INFORMATION THE RECEIVER AKNOWLEDGES THAT ANY UNAUTHORIZED CONTACT WITH SAID LEGAL SELLER WILL BE CHARACTERIZED AS A BREACH OF CONFIDENTIALITY AND SAID AGREEMENT MAY BE ENFORCED UNDER EXISTING LAW OR IN EQUITY.
This paper was prepared by General Equipment Corp.
The paper represents an offer of a partner of General Equipment Corp.
All rights are reserved by and for General Equipment Corp..
All content and ideas of this paper are the property of General Equipment Corp.
---
Defense items are subject to final destination approval and granting of an
export license issued by exporting country's authorities