General Description
This offer concerns a complete UPS system consisting of four PILLER generator sets with MTU diesel engines in combination with PILLER Uniblock TDE UPS systems.
Total generator output rating: 4 x 880 kW (4 x 1100 kVA), 3 phase 400V, 50 Hz.
RPM: 1500
Total stored bridging energy: 4 x 16.5 MW
Total bridging output rating: 4 x 1100 kW during 16 seconds or 4 x 1650 kW during 10 seconds
Bridging output voltage: 405 – 550 DC
Efficiency / losses: 99% / 11 kW
The system on offer combines UPS and emergency power supply. It rides through all power outages for unlimited time.
Bridging of mains failures is effected via the discharge of energy stored in low speed flywheels. This highly efficient system - Powerbridge - does away with the traditional banks of heavy lead acid batteries, their myriad of connections and their high maintenance cost.
The combined system has the following features:
· No batteries concept, integrated kinetic energy storage
· Fully assembled and tested system
· System can be operated at ambient temperatures of 0 - 40º C, so no air conditioned space required
· Drastically reduced diesel starts (and wear), diesel 'soft' start
· 96% efficiency, minimizing operation cost
· Very low maintenance cost
· Maintenance can be carried out while the system is in operation
· Highest reliability
· Power conditioning function during mains and diesel support
· Constant output voltage during load fluctuations
· Very wide input voltage tolerance
· Excellent frequency stability
· Filtering of > 99% of distortion, bi-directional
· Critical plus non-critical load supply possible (2 x rated power)
Machinery and major parts have been manufactured in Germany in 2000.
The equipment has never been used and is in "brand new" condition with some parts still in their original packing.
Scope of Supply
The UPS system consists of four complete units, each comprising the following machinery and equipment:
· Diesel generator set, complete with silencers, exhaust gas purification system, starting batteries, diesel oil day tank, lube oil tank;
· Piller Uniblock T system with kinetic energy storage module;
· Automatic load transfer switch system;
· Piller Uniblock-TD control cabinet.
Technical Description
1. Diesel Generator Set
The diesel generator set is of the Piller DHH 102.80/5 type with an MTU 12V4000 diesel engine. Generator: 1500 rpm, 400V, 50 Hz, 880 kW, 1100 kVA. Exhaust gas purification system: HUG combikat OFL30/1 – 1500-S. Diesel oil day tank capacity: 1000 litres.
2. Piller Uniblock T System
The Piller Uniblock system is of the Uniblock TDE 1100/1100 type. The system incorporates a Piller Powerbridge II 16.5 MW kinetic energy storage module.
The Uniblock TDE forms a directly coupled combination with the diesel engine. The machines are linked to each other via an overrunning clutch. The diesel engine additionally bridges long-term power failures. In this configuration, a further emergency power supply is completely unnecessary.
Powerbridge is a vertically mounted stored-energy low speed flywheel system with a generator. It stores 16.5 MW, which means 1100 kW can be generated for 15 seconds. This is more than sufficient to ride through a mains failure during the period the diesel engine needs to start up non-stressfully.
By using a DC connection, energy can be supplied from 3600 down to 1800 rpm, during which 75% of the stored kinetic energy will be discharged.
The flywheel and generator have a common shaft. These rotary components are enclosed in a sealed, helium filled housing. 90% of the rotor weight is supported by an electromagnetic bearing, resulting in very low friction losses and high efficiency.
A low power induction motor inside the housing is used to re-start Powerbridge from speeds below 900 rpm.
<![if !vml]>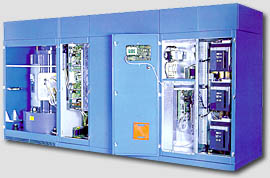 <![endif]>
Figure 2: power bridge unit with cross section
3. Automatic load transfer system
The uninterruptible automatic load transfer system is of the Piller Apotrans Steurung (control) 7USV/30AT type. The system consists of two static switches, one of which is connected to the preferred supply and the other to the alternative supply. If the regular input fails, the automatic transfer to the second source will be put into effect. If the pre-selected source is again available and remains stable for a specified time, the load is automatically switched back to the preferred supply.
4. Piller Uniblock-TD control cabinet.
The control cabinet is of the TD 1100 type. Input 1 3ph 400/415V 1425A, output 1 3ph 400/415V 1588A.
<![if !vml]>
<![endif]>
Figure 3: the Uniblock-T system
Dimensions and Weights
Diesel Generator set dimensions : 6,000 x 2,000 x 3,000 mm (l x w x h)
Total weight : 9,000 kg
Panel section overall dimensions : 4,000 x 1,500 x 2,500 mm (l x w x h)
Total weight : 7,000 kg
The panel section includes the steel cabinet in which the Power Bridge Unit is cased. The dimensions of this cabinet are 2,120 x 1,320 x 1,900 mm (l x w x h). Its weight is 6,000 kg.