---
21MW
| | |
| --- | --- |
| TYPE: | Genset |
| DESCRIPTION: | 21 MW Diesel Power Plant |
| PRICE: | Upon Request |
| PACKING: | Ex-Work |
21 MW DIESEL POWER PLANT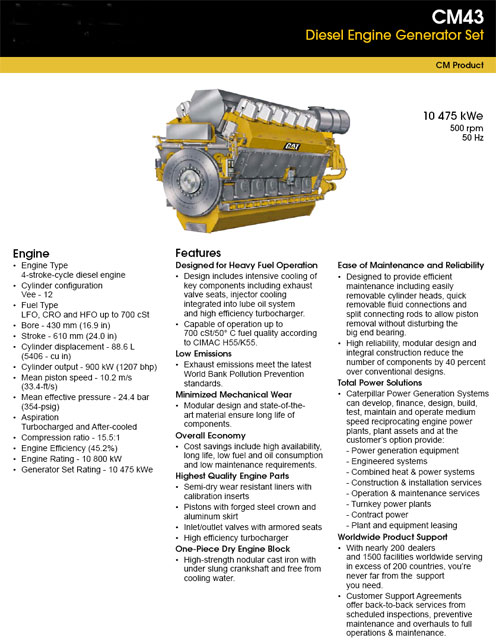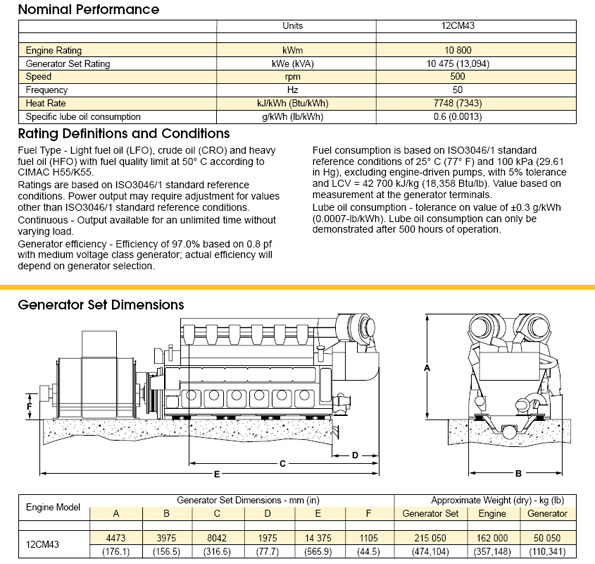 RUN IT RIGHT, make it pay !
You donít build a power plant just to generate power.
You build it as an investment. Whether it supplies power for a manufacturing process or for commercial sale, your plant must produce a reliable return.

Quality equipment is just the beginning ó operating practices profoundly affect your financial results.

When we help operate and maintain your power generation system, we have a vested interest in your success. We will help maximize your return with the industryís most complete support services, built on two decades of worldwide power plant operating experience.
Itís A Major Asset. Manage It For Profit. The best way to ensure a high, predictable return on investment is to put experience on your team.

That is what we can do for you. You focus on your core business. We take care of your power.

The more you rely on us, the better you can predict:
ē your plantís output and availability.
ē your operating costs.
ē your cash flow.
ē your profits.

In a projectís planning stages, an operation and maintenance plan that documents financial performance can help you attract investment capital. Over the plantís life, expert support ensures that you meet your profit objectives, year after year. we can give you a seamless transition from construction, through start-up, into commercial power production.
Once your plant is online, we provide any level of support you require.
WE SUPPORT YOU FOUR WAYS:

Asset Management. We can establish appropriate plant staffing levels, select and train personnel, prescribe operating practices, and implement maintenance techniques that push reliability and availability up while driving costs down. Operations plans are designed specifically to maximize your return on investment.

Parts Management. Replacement parts account for 40 to 60 percent of your plantís operation and maintenance costs. We will help manage parts inventory to keep your costs down, while ensuring that parts are always on hand when you need them. Parts are readily available around the world for fast shipment, usually in less than 48 hours.

Technical Support. Our technical support personnel continuously add value, fine-tuning service intervals, providing quick and accurate troubleshooting, applying new component designs, electronic controls and diagnostic tools that increase service life and minimize labor costs. And they help with day-to-day decisions that have big cost implications ó like whether to reuse a crankshaft, piston or other key component at overhaul.

CHOOSE THE SERVICE PLAN that suits you best:

We offer four basic Power Plant Service packages. You can pick the plan that best fits your needs. Or, we can tailor any package by adding or adjusting services.

Operation and Maintenance Agreement (O&M)

We take complete responsibility for managing your asset. Our staff handles all aspects of operation, maintenance and administration for a mutually agreeable cost.

We work with you to establish and meet specific goals for performance and return on investment. Maintenance and Repair Agreement (MRA)

Our technicians perform scheduled and unscheduled maintenance and regular analysis of critical engine fluids. You also receive technical support and staff training, plus all replacement parts for a mutually agreeable cost.

Maintenance Service Agreement (MSA)

We provide technical support, staff training and assistance with maintenance and troubleshooting, plus a mutually agreeable cost for parts required for regular maintenance.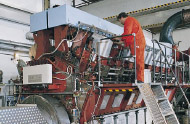 Technical Service Agreement (TSA)

We provide an experienced engineer who trains your staff to improve your maintenance techniques and troubleshoot plant equipment.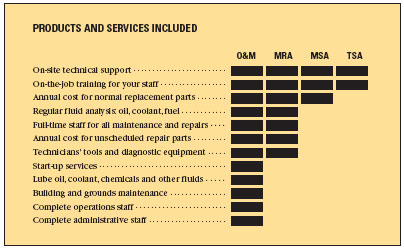 Specification and photos are not contractual and are subject to verification upon inspection
TAKE NOTICE!
PLEASE BE ADVISED THAT INFORMATION INCLUDED IS CONFIDENTIAL IN NATURE AND IS BASED ON PRE-EXISTING BUSINESS RELATIONSHIP WITH THE LEGAL OWNER OF PROPERTY DESCRIBED HEREIN (IF APPLICABLE). AS SUCH, UPON RECEIPT OF SAID INFORMATION THE RECEIVER ACKNOWLEDGES THAT ANY UNAUTHORIZED CONTACT WITH SAID LEGAL SELLER WILL BE CHARACTERIZED AS A BREACH OF CONFIDENTIALITY AND SAID AGREEMENT MAY BE ENFORCED UNDER EXISTING LAW OR IN EQUITY.
This paper was prepared by General Equipment Inc.
The paper represents an offer of a partner of General Equipment Inc.
All rights are reserved by and for General Equipment Inc.
All content and ideas of this paper are the property of General Equipment Inc.