---
2004 FREIGHTLINER CENTURY
| | |
| --- | --- |
| TYPE: | Truck |
| DESCRIPTION: | 20 x 2004 Freightliner Century Tractor head |
| PRICE: | Upon Request |
| PACKING: | As is, Where is |
20 x 2004 freightliner century tractor head
Subject Unsold or market withdrawal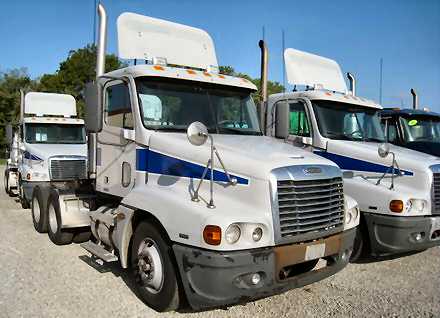 20+ 2004 Century 120's Fleet Specs
MBE 410hp
2.93 ratio
No Over Drive
Steel Wheels.
Engine Brake
10spd
No Passenger seats
165"wb
12 & 40's on Air Susp
Mileages: 309K-395K, with just a couple over 400K
Fob: Upper Mid-West US
Condition: DOT or better.
Price:Best offer in groups of 10 please
Specification and photos are not contractual and are subject to verification upon inspection
TAKE NOTICE!
PLEASE BE ADVISED THAT INFORMATION INCLUDED IS CONFIDENTIAL IN NATURE AND IS BASED ON PRE-EXISTING BUSINESS RELATIONSHIP WITH THE LEGAL OWNER OF PROPERTY DESCRIBED HEREIN (IF APPLICABLE). AS SUCH, UPON RECEIPT OF SAID INFORMATION THE RECEIVER ACKNOWLEDGES THAT ANY UNAUTHORIZED CONTACT WITH SAID LEGAL SELLER WILL BE CHARACTERIZED AS A BREACH OF CONFIDENTIALITY AND SAID AGREEMENT MAY BE ENFORCED UNDER EXISTING LAW OR IN EQUITY.
This paper was prepared by General Equipment Inc.
The paper represents an offer of a partner of General Equipment Inc.
All rights are reserved by and for General Equipment Inc.
All content and ideas of this paper are the property of General Equipment Inc.