---
155MM AMMUNITION
| | |
| --- | --- |
| TYPE: | Ammunition |
| DESCRIPTION: | 155mm Ammunition from Arsenal Stock |
| PRICE: | Upon Request |
| PACKING: | Upon Request |

155MM AMMUNITION
Ammo 155m for immediate delivery from the stock:
1. 155mm HE quantity 12.100 pcs year of production 1975-1999
2. 155mm Smoke quantity 3.738 pcs year of production 1978-1996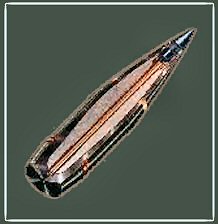 The M110A2 is a 155mm Smoke projectile used to provide screening or marking smoke
There is a secondary incendiary effect
The M110A2 has the same general appearance as the M107 and have the same design origin
It is a separate loading munition using a hollow forged steel shell
The shape is ogival with a boat tail for aerodynamic efficiency and a welded steel baseplate
Close to the base is a gilding metal drive band protected by a grommet until jut before loading .
3. 155mm Illumin. quantity 513pcs year of production 1978 year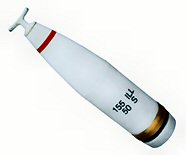 ROLE :


Shell 155 mm Illuminating belongs to the family of Illuminating Gun Ammn. Used extensively to support night warfare. The illumination provided by this ammn. is sufficient for identification and engagement of all types of moving and non-moving objects. This ammunition will also help for movement of troops and locate the enemy.

FUNCTION :


The Shell is fired from 155 mm howitzer. On initiation of first separation charge on fuze functioning, the canister is ejected from the shell. The auxiliary parachute will be opened out. After a delay of 2.5 sec, the second separation charge is initiated. This will enable the separation of main parachute alongwith the flare

TECHNICAL SPECIFICATIONS :
| | |
| --- | --- |
| Estimated mass | 42.7 ± 0.4 kgs |
| Length | 583.5 mm |
| Diameter | 154 mm |
| Range | 18 Km |
| Height of burst | 500 m |
| Time of burning | 47 sec (min) |
| Luminosity | 21 to 25 Lakh candela |
| Fuze | DM-153 |
| Rate of Descent | 6 m/sec |
| Shelf life | 10 years |
ADVANTAGES :
Provided with a fuze of 150 sec. Time mechanism (Adjustable) with safe and arming device. The illuminant canister supported with the parachute and spin break system provides intense illumination on the ground. The ammunition can be fired any angle, altitude or terrain including desert and snow bound areas.

QUALITY :
Quality Assurance system on the product is based in accordance with ISO standard ISO-9001, IS-2500/BS-6000 and related specn JSS/BIS/IND/(ME) and store specn./Drawing.

RELIABILITY :
Has an overall reliability of 97.5%.

PACKING :
12 shells are packed on a pallet provided with wooden block for fixing the shells in position. Alternatively packing can be done as per customer's requirements.


Stowage Dimensions :

1128 X 1088 X 640 mm

HAZARD CLASSIFICATION :
| | |
| --- | --- |
| Compatibility | G |
| Hazard Division | 1.2 |
| Fire fighting | 2 |
All ammo is stored according to Mil standard and is packed in originally wooden cases ready for transport and war.
---
155MM BB M1A4
The 155 mm HE ERFB RA/BB (VLAP) projectile belongs to new generation of very long range artillery projectiles designed for importantly improving operational range performances of a modern towed and self-propelled 155 mm gun - howitzers with 39, 45 and 52 calibre barrel length.
The projectile design combines rocket motor and base bleed units in single projectile.
Hybrid rocked assisted/base bleed projectile is extending the operational range of 155mm gun-howitzers from 10+ km to more than 20 km in comparison with standard ERFB/BB projectiles, depending on the barrel length and charge used.
It complements existing HE, HE ERFB/BT and HE ERFB/BB ammunition systems providing greater ranges, with no special training or logistic. 155 mm HE ERFB RA/BB enables users to engage enemy targets at greater ranges, whilst being well beyond the range of their counter battery fire. It also enables long range harassment fire onto enemy logistic lines, forcing them to deploy an additional 10 - 20 kilometres from the front edge of the battle area. Its terminal effectiveness (blast and fragmentation) is due to smaller HE charge slightly different, but not importantly lower than HE ERFB/BB round.
Achieved results: 33% increase in range comparing to standard HE ERFB/BB base bleed projectiles (from 30.3 km to 40.8 km for 39-barrel systems and from 42 km to ~56 km with 52-barrel systems.
The unique projectile design enables simultaneously using of rocket propellant (by using of specially designed nozzles) and base bleed charges.
Projectile main characteristics:
Maximum range ~56km

Muzzle velocity ~925m/s

Rocket motor total impulse of : >6500 Ns

Rocket motor propellant charge weight: ~3 kg

Rocket motor specific impulse: >2170 Ns/kg

Projectile total weight: 48 kg

Projectile warhead section weight 30 kg
Specification and photos are not contractual and are subject to verification upon inspection
TAKE NOTICE!
PLEASE BE ADVISED THAT INFORMATION INCLUDED IS CONFIDENTIAL IN NATURE AND IS BASED ON PRE-EXISTING BUSINESS RELATIONSHIP WITH THE LEGAL OWNER OF PROPERTY DESCRIBED HEREIN (IF APPLICABLE). AS SUCH, UPON RECEIPT OF SAID INFORMATION THE RECEIVER ACKNOWLEDGES THAT ANY UNAUTHORIZED CONTACT WITH SAID LEGAL SELLER WILL BE CHARACTERIZED AS A BREACH OF CONFIDENTIALITY AND SAID AGREEMENT MAY BE ENFORCED UNDER EXISTING LAW OR IN EQUITY.
This paper was prepared by General Equipment Corp.
The paper represents an offer of a partner of General Equipment Corp.
All rights are reserved by and for General Equipment Corp..
All content and ideas of this paper are the property of General Equipment Corp.
---
Defense items are subject to final destination approval and granting of an
export license issued by exporting country's authorities