1. GENERAL PRESENTATION
The rescue boats SAR 14M are made for the provision of rescue at sea, both near the coast on the high seas
They are operational at all times and have the distinction of being:
· Self-Righting,
· Having sufficient autonomy to perform any operations of search and rescue.
They are also prepared for:
- Patrol missions and maritime surveillance
- The protection of maritime traffic and fishing
- Service against fire in port or at sea
- Towing vessels of similar size
2. MAIN PARTICULARS
- Durable Polyester Reinforced Glass Fibre (GRP) single-skin Hull.
- Durable Polyester Reinforced Glass Fibre (GRP) Sandwich Superstructure.
Composite materials of top quality according with good precepts of the shipbuilding activity, certified by the main
Classification Societies:
- Laminating resins and gel-Coats (Polyester): Scott Bader
- Fiberglass: Vectrotex or similar
- Adhesives collages vacuum: Scott Bader

2.1 The dimensions are as follows:
· Length : 14,30 m
· Length water line : 11,60 m
· Breath : 04,20 m
· Draught approx. : 00,80 m
· Max. : 28 Knots
· Speed Operation: 24 Knots
· Passenger Capacity : 6 rescued seated
· Crew: 3 Crew Members
· Displacement: 17 tons
2.2 Capacities:
· Fuel - 2,600 m3
· Freshwater - 0.150 m3
· Oil Lubrication - 0,100 m3
· Foam for the Fire fighting Canon - 0.300 m3
3. SPECIFIC FEATURES AND QUALITIES OF THE VESSEL
3.1 Lines Plan
The Hull is Single-skin and is designed to sail at high speed while maintaining high standards of stability and thus able to withstand the effects of wave and bad weather conditions
The hull is in deep V, is more pronounced at the bow to get a high speed and has been studied to achieve good
behaviour at sea
The boat is built in Polyester Reinforced with Fiberglass (GRP) hull and superstructure
The vessel has a superstructure where we find the navigation bridge, which allows itself optimal use in all weathers
The quality of the superstructure assures the vessel a high degree of stability and enables more efficiency of the propulsion set and allows the vessel to possess qualities of flexibility and rapid manoeuvrability
The boat meets the standards applicable to vessels of the same type/Class
3.2 Certification
The rescue boats are built under the supervision of the classification society Det Norske Veritas (DNV), recognized by international maritime authorities
The Classification Society scope is ensuring that the rescue boats meet the requirements for obtaining a Certificate of Construction for this type of vessel
Lines Plan, as well as stability documents are subject to the approval of the Classification Society
The costs of intervention by the Classification Society are manufacturer's responsibility
The Classification Society is responsible for verifying that the construction of the vessels in its own standards and final specifications of this contract and is responsible for supervising the tests in accordance with its regulations

3.3 Drawings
During construction will be supplied to representatives of the Owner a copy of all plans and all technical
documentation that are necessary to survey the construction.
Upon delivery the constructor will provided for each vessel the original and one copy of all plans "as built", project

Calculations and construction that will include:
- General arrangement
- Lines Plan
- Stability Booklet
- Hydrostatic Curves
- Bilge Layout
- Safety Plan
- Machinery Layout
- Bridge Layout
- Standing Rigging and antennas
- Cathodic Protection Plan
- Tank Volumes Plan (bunkers, tanks and portable tanks)
- General structure - hull, deck and superstructure
- Line shaft and propeller
- Rudder shaft and rudder
- Steering Gear
- Bilge & Fire fighting System Schematics
- Fuel System Schematics
- Engine cooling system schematics (fresh water and sea water)
- Fresh water system schematics
- Grey and black water system schematics
- Calculation of electrical loads balance
- Electrical diagrams (tables)
- Schematic power distribution
- Miscellaneous nautical inventory
- Inventory of spare parts (complete with references manufacturers)
- Vendor List of appliances and equipment, containing identification
- Trials & Tests report
Moreover, the original game plans and calculations subject to regulatory approvals are provided duly endorsed
3.4 Construction Survey
The Builder provides representatives of the Owner:
- A help desk and support on site.
- An office and all the conveniences on site.
- Unrestricted access to all sites of construction, subcontractors included.
- Access to all technical documentation and communication related to the construction of the ship (drawings,
certificates, test results, orders, certificates of appliances and equipment, textbooks, etc.).

3.5 Trials and Inspection
The tests required by the maritime authorities and asked for the Classification Society are insured and planned by the manufacturer
The dates of the tests are to be announced to owner 15 days in advance

3.6 Tests
- Hydraulic Tests to, structural and non-structural tanks (water column)
- Laminates thickness
- Testing of delaminating to stratification
- Trials verification and tests carried out in the shipyard and by subcontractors (when applicable)

3.7 Sea Trials
Before the delivery, the vessel will be submitted to some tests at shore and at sea, in the presence of the owner or his legal representative appointed
During the sea trials, the personnel required will be supplied by the manufacturer
It will be a thorough test report which will make the final reception of the vessel

3.7.1 Shore Trials
Operation of all equipments on board, including the following:
· Navigation lights
· Navigation equipments
· Generator set and electrical installation
· Communication systems
· Security systems and alarms
· stability test (test of self-righting not included, the audit will be done by calculation made on computer, according to the regulations of the Classification Society)

3.7.2 Sea Trials
· Propulsion Engines (4 hours) at maximum power with registration of all operating parameters and consumption
· Speed (5 runs)
· Rudder response time from one side to another at the maximum speed
· Radius-turn for both sides
· Raising the anchor
· Emergency Stop ("crash stop")
The Manufacturer will submit for the approval of the Supervisory a report of all tests and examinations

3.8 Training
It is anticipated, before the delivery of each vessel, for a period of 2 weeks at the site of the manufacturer, captain and mechanic
During this period, all expenses (housing, meals and travel) are supported by the Manufacturer and also training, given by the Manufacturer
In this way the two technicians will receive adequate instruction on the operation and safety of the ship.

3.9 Insurance
The yard ensures to endorse a policy covering its liability work and on the other hand a trustrisk policy covering the value of the vessel under construction at its premises
In the event of disaster, redemption premiums would be allocated for the reconstruction of the vessel subject of this
contract
In this case the delivery time, in particular penalties for delay would no longer apply
An addendum of contract would redefine these terms

3.10 Buoyancy
The boats are built, hull and superstructure, in GRP
The hull is divided into compartments by watertight bulkheads and is protected throughout its length by defences (minimum 220 mm), which ensures protection against the striking from the dock or vessels in case of transhipment
The boats are self-righting; whatever working conditions at sea
The evacuation of seawater shipped into the coffers devices is provided by "ad hoc"
The stability calculations are subject to the approval of the Classification Society
It approves and certifies that the vessel is self-righting
The scantling of the materials used (structural and hull), and assembly procedures are in accordance with the rules of the Classification Society and the regulations specific to the vessels of open-seas rescue

3.11 Bridge and Superstructure
The deck and superstructure are made of GRP-sandwich type and are designed so that they do not take specific action
of the sea in bad weather
The passenger compartment is sealed with a watertight door with locks. Windows of the bridge are fitted with
"Security" glasses equipped with wipers and with water jet
The bridge is constructed in a manner to provide an extended field of vision over an area of horizon as large as possible
It is designed to facilitate the rescue effort, docking manoeuvre and switchgear
The devices installed on the bridge are positioned in a way to avoid any visual or acoustic restrain
3.12 Specific Equipment
· The mooring equipments and anchoring assures good performance when mooring. They are of a simple design
and easy to deal with
· The presence of bollards front and rear allows the boat to tow or being towed
· Adequate protection is provided to allow the crew to move aboard in a safe way and avoid accidental falls at sea
· Each rescue boat is equipped with a Zodiac with its engine HB And a system for launching rail for the deployment
of the star in a period not exceeding quick 5 min
· The hull thus constituted has two platforms near the water level, one at each side and to the rear to facilitate
loading castaways. When they are not needed, continuity of the main deck is provided by a folding pavement and
the hull is protected by two doors (as described in the Plan Ensemble)
· Access to the different compartments is provided by watertight hatches. The watertight doors, panels windows, the windows and air releases are designed to prevent the flooding of the limelight and reducing the freeboard
· Room for survivors 6 (seated with seat belts), with reserves of hot drinks (flask) and first-aid boxes
· All compartments are pumped by an adequate system of automatic bilge
· Ventilation to the star is studied so as to allow air circulation in all areas. The engine compartment has special
ventilation, geared to space. Ventilation ducts allow for a good supply of fresh air and a good engine cooling
thereof. Ventilation ducts are not made of materials containing polychlorinated biphenyls (PCBs) and asbestos
· The air ducts are designed so as not to create air unpleasant noises
· The engine is designed to allow for thermal and acoustic insulation adequate
· A corner kitchen is planned and ventilated
· The bridge has a main post containing two ergonomic seats and a chart table with drawer for nautical charts
On the bridge are:
Main engines board
Security alarms board for main engines, auxiliary engines and levels
Navigation board, devices and radio installations
Navigation board, lights and lighting
· The bridge and compartments are fitted with heating and air conditioning and will have adequate ventilation
· Bridge roof and adjacent spaces to engine compartment are protected by adequate thermal insulation
· Bulkheads and superstructure are in accord with the regulations of the Classification Society recognized by the
Administration, including fire resistance and their emission of toxic gases in the event of fire. For the protection of
stratifications of the room to machines, is planned, a layer of self-extinguishing resin covered by a layer of
"Rockwool" of 50 mm in thickness
· The decks and passages field are covered with a non-skid paint or sanded paint
· The shipyard provides the owner a draft prepared by the paint company for the better standards of the painting
of this typeof vessels, including:
Prior to the painting "anti fouling" are applied on the bottom two layers of primary epoxy
The painting "anti-fouling" is similar to "self polishing" for a period of 2 years. The system for painting
above water line is of the conventional type
The final specification of paints is determined by the paint company, to select and approved by the Owner, which may
choose the brand and quality to be used. (The shipyard suggests Hempel)
The supplier prepares a report monitoring the work of paint quality control, areas, diapers and quantities of various
types used for each area of the vessel issued at owner
· The mains and auxiliary engines are equipped with instruments for measuring local (tachometer, temperature and pressure gauge) in addition to measuring instruments remotely. They are also in possession of pressure indicators and overload.
· A directional fire cannon powered by the collector of fire is planned in the upper part.
3.12 Speed - Autonomy
Cruise speed won't be less than 24 knots
The fuel tank, service reservoir and the freshwater tanks are fitted so that they do not adversely affect the stability and ensure the autonomy of 350 miles at that speed
The capacity of fuel tanks is 2600 m3 and is calculated to satisfy the above condition

3.13 Propulsion Plant and Systems
3.13.1 Engines
• The vessels propulsion will be provided by 2 diesel engines semi-fast 4-stroke injection mechanical, electrical start:
MTU Series 60 model 6062HK35, 600 hp @ 2100 rpm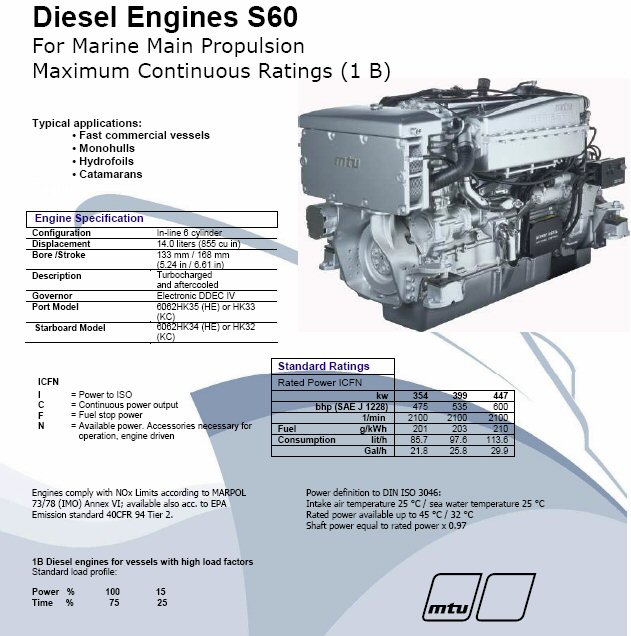 · Each engine is coupled with a Twin Disc gearbox model MG 5114 IV or similar, ratio 1.52: 1
· Both engines will include a bilge pump Hold machines and another collector feeding the fire
These engines are in rating 1B. The MTU 6062HK35 can go up to 5000h/year and withstands between 60 to 80% of
that time at full power, which makes the engine very reliable

3.13.2 Shaft Line
Shaft lines are to be in stainless steel AISI 316
The stern tube bearings are "Thordon" type, lubricated with seawater and with the level gland FWD
Shaft lines are supported on the outside of the hull with "brackets" steel-type V with bearings "Thordon."
The propellers are manganese bronze

3.13.3 Steering System
It will be installed an electro-hydraulic steering gear system with dual hydraulic jacks of dual purpose
The choice is, according to the requirements of the Classification Society, a device brand Navipa or similar
This device is actuated by:
- A manual backup system hydraulically driven by the steering wheel
- Two rudder angle indicators: one to the steering device & one at the bridge
- Three steering systems:
- One local, one by buttons and on the steering device
- A type wheel on the bridge
- A wheel for manual backup system hydraulics

3.13.4 Cooling Systems
Circuits of seawater and freshwater with chillers and pumps located in machinery according to the usual standards of engine manufacturers
3.14 Piping and Valves
Sea water and fresh water:
- Piping in Cunifer / Cuproniquel, with bolted flanges
- Valves in cast iron and bronze interior
- Sea-cocks in steel
3.15 Console, Command & Control
The control of the propulsion system is provided by "morse" type cables
3.15.1 Engine Console, C/M
· Starting and stopping of main engines
· RPM Gauge
· Gearbox control
· Idle system
· Starting and stopping of auxiliary engine

3.15.2 Bridge Console
· Starting and stopping of main engines
· Rotations control
· Gearbox control
· Idle system
· Starting and stopping of auxiliary engine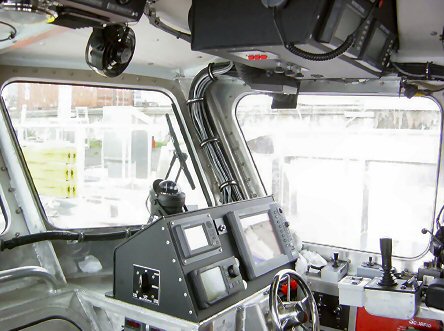 3.16 Control & Alarm
3.16.1 Main Engines and Gearboxes (x 2)
· RPM Gauge
· Temperature of the freshwater flow engine
· Lubrication oil pressure
· Gearbox oil Pressure
· Gearbox oil temperature
· Specific instrumentation of the engine
· Visual and acoustic alarms for the following functions:
- Engine oil low pressure
- Cooling Water temperature high
- Gearbox Oil low Pressure

3.16.2 Generator Set (1)
· Generator running indicator lamp
· RPM Gauge
· Cooling water temperature
· Lubrication oil pressure
· Specific instrumentation of the engine
· Visual and acoustic alarms for the following functions:
- Engine oil low pressure
- Cooling Water temperature high

3.17 Bridge Instrumentation
3.17.1 Main engines & gearboxes (x 2)
· RPM Gauge.
· Cooling water temperature
· Lubrication oil pressure
· Gearbox oil pressure.
· Gearbox oil temperature.
· Repeaters of the visual and acoustic alarms.
3.17.2 Generator Set (1)
· Generator running indicator lamp.
· Cooling water temperature.
· Lubrication oil pressure.
· Repeaters of the visual and acoustic alarms.

3
.18 Systems
3.18.1 Pressurized Water System
· 1 Freshwater pressurized system, with pressure reservoir and 10 litres / min at 20 m electro-pump, or similar
· 1 Seawater pressurized system, similar

3.18.2 Freshwater – Kitchen & Toilets
Seawater - discharge of sanitary and sink in the kitchen
The system is direct discharge outboard engines
Piping For freshwater and seawater - steel AISI 304 machines in the room, reinforced PVC or rubber hose on the outside

3.18.3 Fuel System
The vessel is equipped with a pair of main and daily tanks serving respectively each engine, Port and starboard
These tanks are fitted with a window level and usual accessories
At the entrance of the engines are fuel pre-filters type "Relumix" GEFICO MF 1000 L / h - with mano vacuometre or similar

3.18.4 Engine Room
The insulation of the exhaust consists of materials containing no asbestos
A centrifugal pump driven by one of the main engines is installed to serve a fire-fight collector
Forward and aft from the engine room will allow for:
· One small automatic electric pump
· On the one hand bilge pump
· A fuel transfer pump

3.19 Power Supply & Lights
3.19.1 Main sources of power
The electrical power is provided by a generator set that consists of a Caterpillar 30KVA generator, or similar, capable of supporting itself all the power of electricity balance by any time:
the tension is 380/220v under 50hz
The power of the alternator is approximately 110% of the total electricity balance
A set of batteries with chargers ensures the start of each main engine and another set of batteries is scheduled for the start of the generator

3.20.2 Navigation
Each star is also equipped with:
- Autopilot ComNav 1460 or similar
- A magnetic compass
- A "Flux Gate", with adapters for autopilot
- A VHF Direction Finding TAYO TD-L1620A with the possibility of being coupled to the radar
- Radar with 24 Nautical Miles range
- An GPS operating with mapping C-MAP (coupled with the system GMDSS)
- A sounder performance on the bridge, transducer bronze 50/200 KHz, Source: 24VDC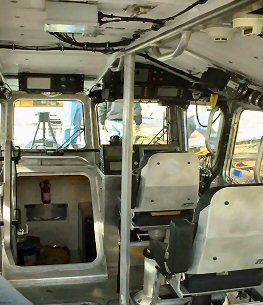 3.20.3 Extra equipments
· Thermometer
· Pressure and anemometer
· Cockpit Watch
· Indicators bar
· An intercom post in machine + two waterproof loudspeakers
· A Fog Alarm

3.21 Outfitting
· Two cabins with two beds & cabinets are planned to house 2 crew members each
· A space is scheduled for 6 survivors sat down with seat belts and 2 other beds, over chairs
This area has a reserve for hot drinks (flask), and a first aid box
- It is also planned:
- Cabinets
- Local toilets, showers, sinks and toilets
- Electrical Apparatus for cooking and its location
- A refrigerator
The interior doors are positioned in accordance with the Plan of Ensemble. These doors are double-leaf wood, or equivalent, as a Marine model, with opening for escape to kick
Accessories are naval aluminium and stainless steel
The outside door, also positioned in accordance with the GA, is GRP with lock and a system to hold it open

3.22 Labelling
All compartments, service areas and systems are identified with resopal plates, engraved in Owner language and set
appropriately
Any signs of command, electric control panels and instructions are written in Owner language
All valves and auxiliary equipment, machinery, ventilation pipes, tubes and filling Have placards inscribed in Owner language
The pipes will have identification plates of their service

3.23 Security
The vessel is equipped with inflatable life rafts, buoys, flairs and cable launcher, the specifications and numbers are consistent with existing regulations
The fixed fire extinguishing CO2 is planned to protect machinery spaces
The outbreak of the facility is reported by a lights and buzzer
A contactor is willing piloting on his box order
A fire detection in the different compartments is installed on board
It is also installed:
- Mobile extinguishers different type (CO2 Powder, water spray), which are divided into compartments of the show in terms of their specificity and the nature of fire to fight
- Kit pollution
- Hydro ejector (for the emulsifier) extinguishing the fire, consisting of:
• Water Canon for fire suppression, with the accessory Mansoon "self inducted", or similar
• Pump Azcue of 100 m3 / h to 120 m.c.e. or similar, coupling in at of the main engines
• The induction of foam emulsifier is automatic using a pump independently of adequate capacity

3.24 Anchoring Equipments
· 1 Galvanized anchor

3.25 Towing Cables & Fenders
· A towing line polypropylene, 30 mm in diameter and 100 m in length (floating)
· Four mooring cables polypropylene, 22 mm in diameter and 30 m in length each
· Two mooring cable polypropylene, 30 mm in diameter and 30 m in length each
· Three throwing cables 8 mm in diameter and 20 metres in length each
· One floating anchor 700 mm diameter
· 6 Fenders

3.26 Deck Outfitting
· 1 hatch
· 2 steel cleats
· 2 cleats stick to the bridge
· 2 plastic buckets of 10 L
3.27 Fire-fighting Equipment
· Fire extinguisher powder 6 Kg
· Fire extinguisher C02 6 kg
· Fire extinguisher powder 12 Kg
The number of fire extinguishers and their location aboard the rescue boat meets the standards of the Society of
Classification.

3.28 Life Saving Equipments
· One first aid pharmaceutical box
· Inflatable life raft for 10 persons
· 12 lifejackets
3.29 Navigation Equipments
· Spare compass
· Two pairs of binoculars day and night
· Two 100W projectors for the bridge, P&S
· One 500W projector or equivalent at the bow

3.30 Locating Equipment
A - Signals and Lights
Standing Rigging: The legs are fixed on the roof of the bridge. They will have the regulatory navigation lights (roots, unable to manoeuvre, towing signs and morse) a radar antenna and a plate with power supply for the lights
Lights: The number and location are consistent with the regulations for this type of vessel
B - Miscellaneous signalling equipment
· A compressed air horn
· A national flag
· Cable launcher
· Hand Flairs and parachutes

3.31 Galley Equipments
· One electric Vitro-ceramic plate
· Air ventilation fan for the exhaust
· 1 stainless steel sink with wringer
· One 50 L refrigerator approximately
3.32 Accommodations Equipments
· 4 plastic foam mattress coated with fabric
· 1 wall mirror
· 1 stainless steel sink
· 1-toilet paper stand
· 1 brush with handle for the W.C.
· Carries paper roll
· 1 key box, with lock in the WC
· 1 electric boiler

3.33 Spares (per vessel – to be defined)
· 1 set of spare parts for the main engines (as listed provider of engines
· 1 set of spare parts for engines and auxiliary (as listed supplier of engines)
· Comprising at least for the two types of engines:
- 1 game engine gasket
- 10 fine filter cartridges for fuel
- 10 for the filter cartridges oil
- Air Filters
The list of spare parts is subject to the owner but is not accounted for in the present estimate.

3.34 Fuel System
· 1 Repair KIT; fuel pump, attached pad and contacts
· 10 filter cartridges for fuel

3.35 Bilge & Fire-Fighting System
· 1 set of seals for pumps installed
· 1 impellers set for each installed pump
· 1 belts set, all kinds installed
· A set of bearings for each pump installed

3.36 Ventilation System
1 Repair KIT for ventilation engines (pad contact)

3.37 Electric System & Electronics
· 5 bulbs of every type and size existing
· 10 fuses of each existing size
· 1 circuit breaker, engines protection
· A batch of miscellaneous installation equipment (push button, visitors are taken, etc.).

3.38 Fog Horn
1 Spare Membrane

3.39 Drawings & Manuals
All plans, drawings, manuals and instruction books for the operations and maintenance of the rescue boat come in 3 copies in Owner Language or English