---
14.5MM ZPU-4 AA
| | |
| --- | --- |
| TYPE: | Cannon |
| DESCRIPTION: | 14.5mm ZPU-4 AA Cannon |
| PRICE: | Upon Request |
| PACKING: | Ex-Depot |
14.5mm ZPU-4 AA Cannon
Subject Unsold or market withdrawal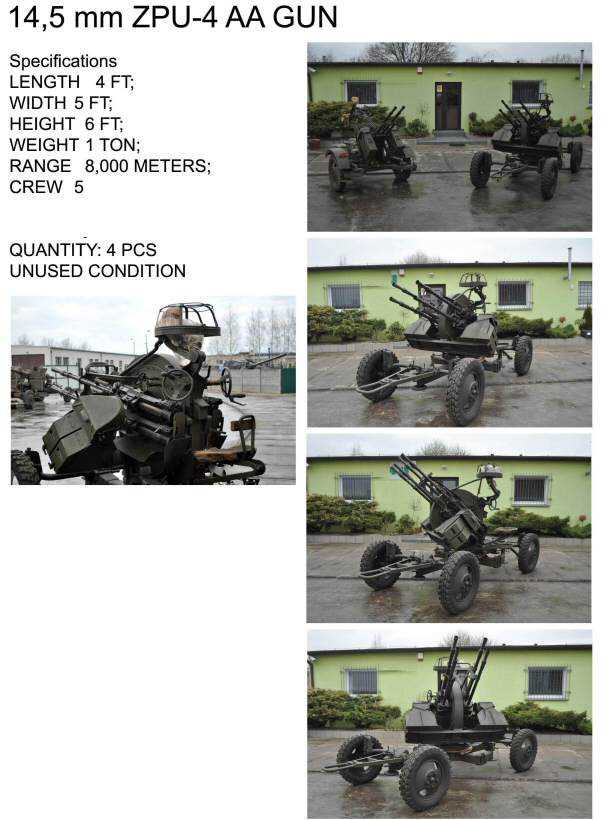 ---
14,5 mm zu-2 anti-aircraft gun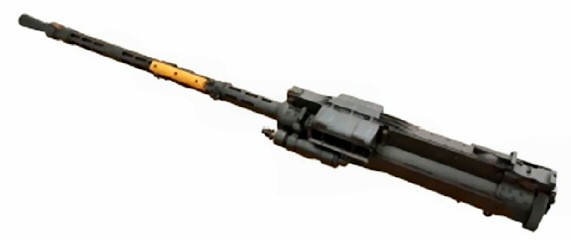 Specifications:
Weapon: 2 × 14.5 mm KPV MG Ground clearance: 270 mm
Effective range: 2,000 m Track: 1,480 mm
Rate of fire: 600 rds/min for each barrel Distance between barrel axis: 190 mm
Muzzle velocity: 980 to 1,010 m/s Total weight: 660 kg
Traverse: n × 360° Weight of belt with 150 rounds: 33.5 kg
Elevation: -15° to 88° Weight of empty box-magazine: 6 kg
Speed (two complete turn of wheel): Max. speed on road: 60 km/h
traverse 56°/sec Max. speed off road: 20 km/h
elevation 35°/sec Crew: 3
Dimensions (firing position; barrel at 0° obliquity):
length 3,900 mm
width 1,665 mm
height 1,100 mm
Dimensions (travelling position; barrel at 0° obliquity):
length 3,900 mm
width 1,665 mm
height
1,500 mm
packing:

Wooden Box: 2300 x 2130 x 1570 mm
Net/Gross Weight: 900 / 1400 kg
Specification and photos are not contractual and are subject to verification upon inspection
TAKE NOTICE!
PLEASE BE ADVISED THAT INFORMATION INCLUDED IS CONFIDENTIAL IN NATURE AND IS BASED ON PRE-EXISTING BUSINESS RELATIONSHIP WITH THE LEGAL OWNER OF PROPERTY DESCRIBED HEREIN (IF APPLICABLE). AS SUCH, UPON RECEIPT OF SAID INFORMATION THE RECEIVER ACKNOWLEDGES THAT ANY UNAUTHORIZED CONTACT WITH SAID LEGAL SELLER WILL BE CHARACTERIZED AS A BREACH OF CONFIDENTIALITY AND SAID AGREEMENT MAY BE ENFORCED UNDER EXISTING LAW OR IN EQUITY.
This paper was prepared by General Equipment Inc.
The paper represents an offer of a partner of General Equipment Inc.
All rights are reserved by and for General Equipment Inc.
All content and ideas of this paper are the property of General Equipment Inc.
---
Defense items are subject to final destination approval and granting of an
export license issued by exporting country's authorities