---
14.5MM KPV MG
| | |
| --- | --- |
| TYPE: | Machine Gun |
| DESCRIPTION: | 14.5mm KPV MG |
| PRICE: | Upon Request |
| PACKING: | Ex Depot |

14.5mm kpv mg
Subject unsold or market withdrawal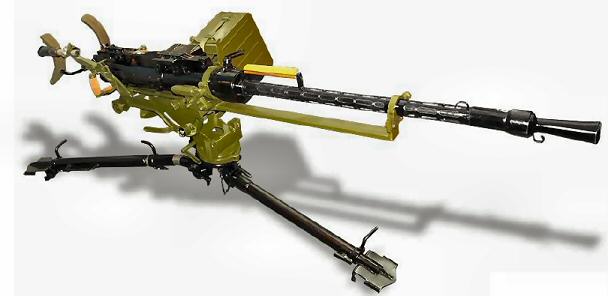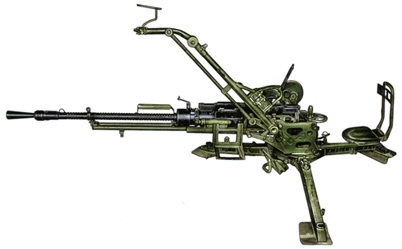 TECHNICAL SPECIFICATION
The KPV-14.5 heavy machine gun (Krupnokaliberniy Pulemyot Vladimirova, in Russian as Крупнокалиберный Пулемёт Владимирова, or КПВ) is a Soviet designed 14.5x114mm-caliber heavy machine gun, which first entered service as an infantry weapon (designated PKP) in 1949.
In the 1960s the infantry version was taken out of production because it was too big and heavy.
It was later redesigned for anti-aircraft use, because it showed excellent results as an AA gun, with a range of 3,000 meters horizontally and 2,000 meters vertically against low flying planes.
It was used in the ZPU series of anti-aircraft guns.
Its size and power also made it a useful light anti-armour weapon on the BTR series of vehicles and the BRDM-2 scout car.

Weight 49 kg (108.03 lb)
Length 1,980 mm (78.0 in)
Barrel length 1,346 mm (53.0 in)
Width 162mm
Height 225mm
Cartridge 14.5×114 mm
Caliber 14.5 mm
Action Short recoil operation
Rate of fire 600 rpm
Muzzle velocity 1005 m/s
Effective range 3000m
Maximum range 4000m
Feed system 40-round belt
Sights iron or optical
Specification and photos are not contractual and are subject to verification upon inspection
TAKE NOTICE!
PLEASE BE ADVISED THAT INFORMATION INCLUDED IS CONFIDENTIAL IN NATURE AND IS BASED ON PRE-EXISTING BUSINESS RELATIONSHIP WITH THE LEGAL OWNER OF PROPERTY DESCRIBED HEREIN (IF APPLICABLE). AS SUCH, UPON RECEIPT OF SAID INFORMATION THE RECEIVER AKNOWLEDGES THAT ANY UNAUTHORIZED CONTACT WITH SAID LEGAL SELLER WILL BE CHARACTERIZED AS A BREACH OF CONFIDENTIALITY AND SAID AGREEMENT MAY BE ENFORCED UNDER EXISTING LAW OR IN EQUITY.
This paper was prepared by General Equipment Inc.
The paper represents an offer of a partner of General Equipment Inc.
All rights are reserved by and for General Equipment Inc.
All content and ideas of this paper are the property of General Equipment Inc.
---
This transmission may include information on International Traffic in Arms Regulation (ITAR) (22 CFR-120-130) controlled items. These controlled items may not be resold, diverted, transferred or transshipped outside of the United States or to any other country without U.S. State Department approval.
US State Department Arms License: K-5943


Defense items are subject to final destination approval and granting of an
export license issued by exporting country's authorities