---
120MMMORTEM12038M
| | |
| --- | --- |
| TYPE: | Ammunition |
| DESCRIPTION: | 120mm Smooth-Bore Mortar EM-120-38M |
| PRICE: | Upon Request |
| PACKING: | See below |
120mm smooth-bore mortar em-120-38m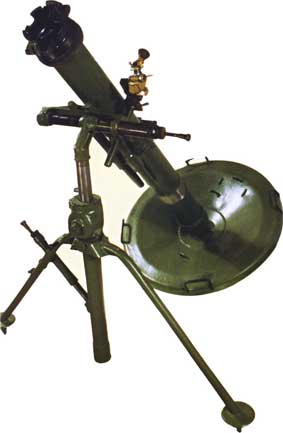 TECHNICAL SPECIFICATION
MAIN TACTICAL CHARACTERISTICS
Calibre:

120 mm

Length of the body:

1520 mm

Hitting range:
- Maximum to be achieved by a long range bomb:
- Minimum
5700 m
7100 m
460 m

Rate of fire, shots per minute:

up to 15

Elevation angle, degrees:

45 up to 80

Deflection angle (directional) degrees:
- Without sliding the bipod:
- By sliding the bipod

+- 5
+- 26

Weight:


- mortar in combat position:
- body:
- base plate:

253 kg,

On preliminary request, the mortar set may include a safety device for avoiding double charging, type 04Sp. The weight in combat position will be 260kg respectively
98 kg
75 kg
kg78
DESCRIPTION
Type:

EM-120-38M

Full set list of units:
- 120mm smooth mortar, type EM-120-38M:
- MUM type sight, or MPM type sight:
- Set of spares, individual:
- Technical description and instruction manual:
- Range chart for six (06) sets of mortars:

1 pce
1 pce
1 pce
1 pce
1 pce
PACKING
The mortar set is shipped in four (04) parcels, including three (03) wooden cases, 1200x1100x550mm – 140kg; 2000x400x580mm – 120kg; 1770x670x590mm – 190kg, and one two-wheel cart without packing
WARRANTY

Warranty covers up to 1000 shots or 18 months period following the commissioning, but not more than 24 months after the delivery date
---
120mm MORTAR M74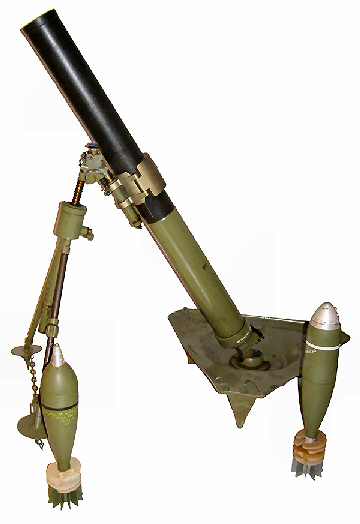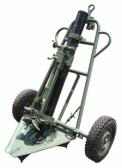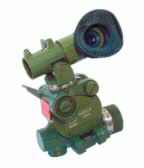 Light mortar 120 mm M74 is a light-weight weapon of infantry close support, designed for annihilation of manpower and for destroying of firing points by short fire engagements.
It is particularly effective on intersected and hilly terrains, where the enemy may be hidden by a rear slope.
The mortar can effectively open breaches in wire barriers or mine fields, demolish lighter fortifications and remove top soil covers over heavy bunkers.
The mortar is also well suited for combat against mechanized units, by destroying their infantry.
It is also suitable for making of smoke screens and for target illumination at night.
The mortar is particularly suited for the mountaineer, special and airborne units, as well as for territorial defence units.
Caliber
120 mm
Length of the tube with stand
1692 mm
Mass transport of weapons
219 kg
Mass of weapons in combat position
120 kg
The angle of fire
45°- 85°
Horizontal field of action:
- without moving the stand
left 3°,right 3°
- with displacement rack
360°
Rate of fire
12 rds/min
Max range (LTF mine 120 mm M62P3)
6440 m
MAX pressure in the tube
<835 bar
Gunpoint devices
NSB-4B
Number of operators
1 + 4

Specification and photos are not contractual and are subject to verification upon inspection
TAKE NOTICE!
PLEASE BE ADVISED THAT INFORMATION INCLUDED IS CONFIDENTIAL IN NATURE AND IS BASED ON PRE-EXISTING BUSINESS RELATIONSHIP WITH THE LEGAL OWNER OF PROPERTY DESCRIBED HEREIN (IF APPLICABLE). AS SUCH, UPON RECEIPT OF SAID INFORMATION THE RECEIVER ACKNOWLEDGES THAT ANY UNAUTHORIZED CONTACT WITH SAID LEGAL SELLER WILL BE CHARACTERIZED AS A BREACH OF CONFIDENTIALITY AND SAID AGREEMENT MAY BE ENFORCED UNDER EXISTING LAW OR IN EQUITY.
This paper was prepared by General Equipment Corp.
The paper represents an offer of a partner of General Equipment Corp.
All rights are reserved by and for General Equipment Corp..
All content and ideas of this paper are the property of General Equipment Corp.
---
Defense items are subject to final destination approval and granting of an
export license issued by exporting country's authorities