---
12.7MM SNIPER RIFLE
| | |
| --- | --- |
| TYPE: | Rifle |
| DESCRIPTION: | .50 (12.7mm) Sniper Rifle |
| PRICE: | Upon Request |
| PACKING: | As is, where is |

.50 (12.7MM) SNIPER RIFLE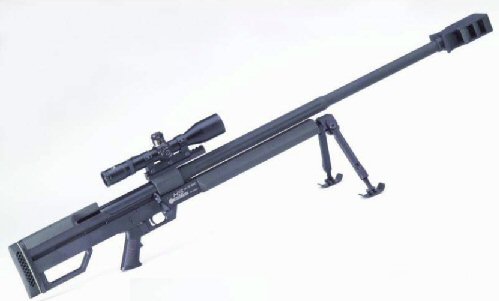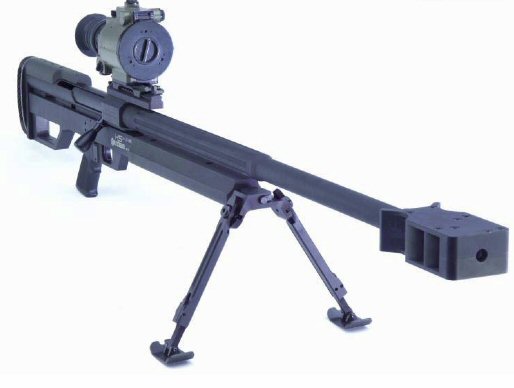 .50 HS sniper rifle in 50 cal.
This single shot rifle is primary intended for anti-material applications and counter-sniping
The
.50 HS
is a single shot rifle, with manually operated, rotating bolt with two large locking lugs at the front
The two-stage trigger is factory set to 4lbs (1.8kg)
The buttstock is adjustable for length of pull, the cheekpiece is also adjustable
Heavy barrel is partially fluted and fitted with effective muzzle brake
The .50 HS has no iron sights; the MilStd Picatinny rail is standard
Rifle is not intended to be fired offhand; it is fitted with integral folding adjustable bipods
This .50 HS short, single shot, "Bull-pup" bolt action rifle also opened a new era for the challenge of long range sport shooting, due to its precision, cold hammer forged fluted barrel that provides excellent accuracy, below one (1) MOA, at an effective range of up to approximately 1 mile, or ~1,500 meters
The .50 HS features a cold hammer forged fluted barrel, adjustable bi-pod, and a highly efficient muzzle brake, which reduces recoil substantially to increase shooting comfort
The top mounted Picatinny rail (Mil. Std. 1913 rail) affixed onto the barrel allows quick and easy installation of various optics, or night vision devices
Mission
■ Destruction and harassment of the enemy
■ Counter-sniping
■ Antipersonnel and anti-equipment fires
■ Military troops protection
■ Support combat operations
■ Precise long-range fire on selected targets
■ Offensive and defensive mission
■ VIP protection mission
■ Cover military mission & intervention
HS .50 technical data
Caliber : 50 BMG (12.7 x 99 mm), Bolt Action, single shot
Operation : manually operated rotating bolt action
Feed Mechanism : single shot, no magazine
Effective range : up to 1,640 yards (1,500 m)
Safety type : 2 position safety system
Barrel length : 33" (833 mm) with high-efficiency muzzle brake
Barrel type : Precision, cold hammer forged barrel, with flash hider/muzzle brake
Rate of Twist : 1 in 15" (RH)
Number of grooves : 8
Stock : "Bull-pup" type alloy stock with height adjustable rubber butt plate, black wooden forearm and quick attachable rugged bipod
Trigger : Single trigger, 2 stage, factory set, 4.00 lbs.
Safety : Triggersafety
Open sights : N/A
Metal finish : Matte black, non reflective & corrosion resistant finish
Magazine type : None, Single shot
Weight : 12,4 kg / 28.5 lbs approx.
Overall Length : 1.370 mm / 54"
Receiver : Steel
Scope Mounts : Mil. Std. 1913 rail
Specification and photos are not contractual and are subject to verification upon inspection
TAKE NOTICE!
PLEASE BE ADVISED THAT INFORMATION INCLUDED IS CONFIDENTIAL IN NATURE AND IS BASED ON PRE-EXISTING BUSINESS RELATIONSHIP WITH THE LEGAL OWNER OF PROPERTY DESCRIBED HEREIN (IF APPLICABLE). AS SUCH, UPON RECEIPT OF SAID INFORMATION THE RECEIVER ACKNOWLEDGES THAT ANY UNAUTHORIZED CONTACT WITH SAID LEGAL SELLER WILL BE CHARACTERIZED AS A BREACH OF CONFIDENTIALITY AND SAID AGREEMENT MAY BE ENFORCED UNDER EXISTING LAW OR IN EQUITY.
This paper was prepared by General Equipment Inc.
The paper represents an offer of a partner of General Equipment Inc.
All rights are reserved by and for General Equipment Inc.
All content and ideas of this paper are the property of General Equipment Inc.
---
Defense items are subject to final destination approval and granting of an
export license issued by exporting country's authorities