---
106MM RCL GUN
| | |
| --- | --- |
| TYPE: | Gun |
| DESCRIPTION: | 106mm Recoiless Gun |
| PRICE: | Upon Request |
| PACKING: | Ex Depot |

106mm anti-tank recoiless gun
Subject Unsold or Market Withdrawal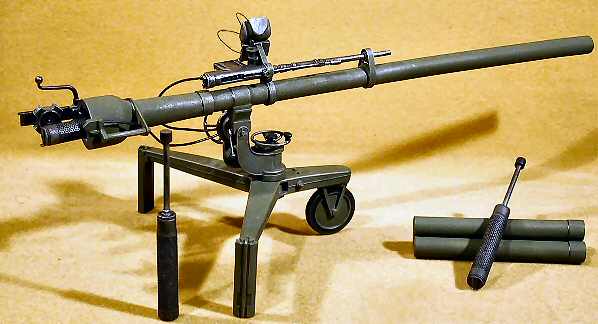 M40A1 106MM Recoilless Rifle with M8C Spotting Rifle

The 106mm recoilless rifle M40A1 and its M8C .50 caliber spotting rifle are now limited standard items with the U.S. armed forces.
The 106mm RCL M40A1 was fired from an attached mono-wheeled M79 tripod.
The 106mm RCL was designed as a light weight anti-tank weapon that could kill main battle tanks.
Ammunitions are high explosive, anti-tank (HEAT), high explosive, plastic (HEP), anti-personnel (APERS), and drill (inert).

The .50 caliber spotting rifle M8C was designed to be the primary ranging device for the weapon.

The .50 caliber spotter round was much shorter than the .50 caliber Browning machine gun cartridge.

The spotter round was a ballistic match to the HEAT and HEP rounds fired by the M40A1.

On impact with the armored target, the gunner saw a puff of white smoke in his sight.

If the puff of smoke was on target, he fired the main gun.

If not, he made his traverse and elevation corrections and fired the .50 spotter again.

A one-shot hit with the 106mm was imperative, because the back blast from the breech extended in a cone-shaped fan 75 yards deep and 150 yards wide.
Specification and photos are not contractual and are subject to verification upon inspection
TAKE NOTICE!
PLEASE BE ADVISED THAT INFORMATION INCLUDED IS CONFIDENTIAL IN NATURE AND IS BASED ON PRE-EXISTING BUSINESS RELATIONSHIP WITH THE LEGAL OWNER OF PROPERTY DESCRIBED HEREIN (IF APPLICABLE). AS SUCH, UPON RECEIPT OF SAID INFORMATION THE RECEIVER AKNOWLEDGES THAT ANY UNAUTHORIZED CONTACT WITH SAID LEGAL SELLER WILL BE CHARACTERIZED AS A BREACH OF CONFIDENTIALITY AND SAID AGREEMENT MAY BE ENFORCED UNDER EXISTING LAW OR IN EQUITY.
This paper was prepared by General Equipment Inc.
The paper represents an offer of a partner of General Equipment Inc.
All rights are reserved by and for General Equipment Inc.
All content and ideas of this paper are the property of General Equipment Inc.
---
This transmission may include information on International Traffic in Arms Regulation (ITAR) (22 CFR-120-130) controlled items. These controlled items may not be resold, diverted, transferred or transshipped outside of the United States or to any other country without U.S. State Department approval.
US State Department Arms License: K-5943


Defense items are subject to final destination approval and granting of an
export license issued by exporting country's authorities