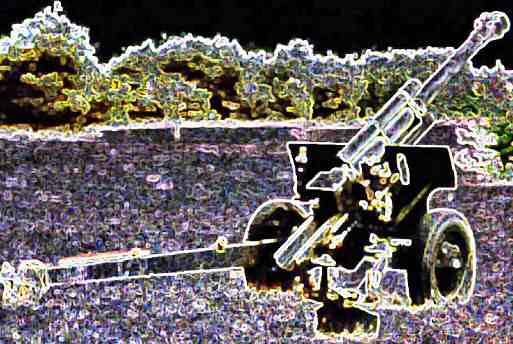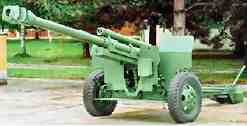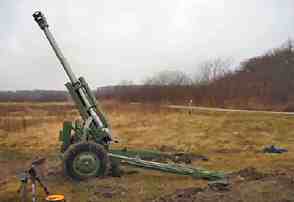 UPGRADED HOWITZER 105 mm M101/33
First generation of 105 mm artillery was the American standard 105 mm M2A1 or M101 howitzer with 23 calibre ordnance, being in service in more than 80 countries in the world.
New, upgraded towed howitzer 105 mm M101/33, with the 33 calibre ordnance, is becoming a latest generation artillery weapon.
The upgraded M101/33 howitzer can fire all standard 105 mm NATO ammunition, as well as the new designed rounds to the ranges of:
18 km, with the new high explosive extended range base bleed projectile (HE-ER BB) projectile, which is more than 60% compared to the standard M101 howitzer;

15 km, with the new high explosive extended range boat tail (HE-ER BT)bprojectile, being 32% more than the range of the standard M101 howitzer.
This improvement (which can be made on the user's site) has been achieved by:
Replacing the existing 23-caliber barrel by a new 33-caliber barrel;

Fitting of the new, high effective double baffle muzzle brake;

Replacing the breech and the breech block (keeping the same shape and dimensions, and using the steel with the higher strength);

Mounting of the new hydro pneumatic equilibrators instead of the existing spring equilibrators to compensate for the higher barrel mass; and

Mounting two additional masses on the trails to improve stability of a weapon during firing.
Howitzer is transported by a 4 x 4 vehicle with carrying capacity of 4.5 tons and towing hook height of 700 mm to 800 mm.
New 105 mm M101/33 howitzer is using semi-fixed round, metal cartridge case and different arrangement of propelling charges, with the following projectiles: standard M1 HE; smoke M60; extended range HE ER-BT (with boat tail); and extended range base bleed HE ER-BB. Propelling charge for M1 projectile has seven zones. Round with ER-BT has three zones, and with ER-BB two zones.
DESIGN AND OPERATIONAL DATA
Model
M101
M101/33
Barrel length (mm):
2,363
3,500
Barrel mass (kg):
320
450

Muzzle velocity (m/s):

M1 projectile

ER – BT HE projectile

ER - BB HE projectile





472




507
675
670

Maximum range (m):

ER – BT HE projectile

ER - BB HE projectile

11,200

11,946
15,037
18,084

Minimum range with first zone and M1 projectile at maximum elevation


2,790

Minimum range with first zone and M1 projectile at maximum elevation Minimum range with first zone and M1 projectile without ricochet (m)



2,500

Projectile weight (kg):

ER – BT HE projectile

ER - BB HE projectile



14.97


14.97
13.00
14.07
Maximum pressure (bars):
2,200
2,650
Muzzle brake weight (kg):
59.5
Muzzle brake:
No
Double baffle
Weapon length (mm):
6,000
7,000
Weapon width (mm):
2,146
2,146
Elevation angle (°):
- 5 to + 66
- 5 to + 66
Traverse angle (°):
46
46
Height of line of fire (mm):
970
970
Weapon mass (kg):
2,030
2,263
Rate of fire (rounds/min):
8
8
Crew:
7+1
7+1

AMMUNITION DATA
Round with projectile HE M1 (33 caliber barrel)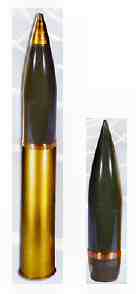 | | |
| --- | --- |
| Weight of complete round (kg): | 19.1 |
| Weight of projectile (kg): | 14.97 |
| Weight of explosive charge (kg): | 2.15 |
| Explosive charge: | Type TNT (or composition B) |
| Length of round (mm): | 790 |
| Length of projectile (mm): | 495 |
| Weight of propelling charge (kg): | 1.3 |
| Length of cartridge case (mm): | 372 |
| Fuse type Impact: | Delay |
| Weight of fuse (kg): | 0.975 |
| Maximum pressure (bar): | 2,200 |
| Maximum muzzle velocity (m/s): | 507 |
| Maximum range (m): | 11,946 |
| Minimum range (m): | 2,500 |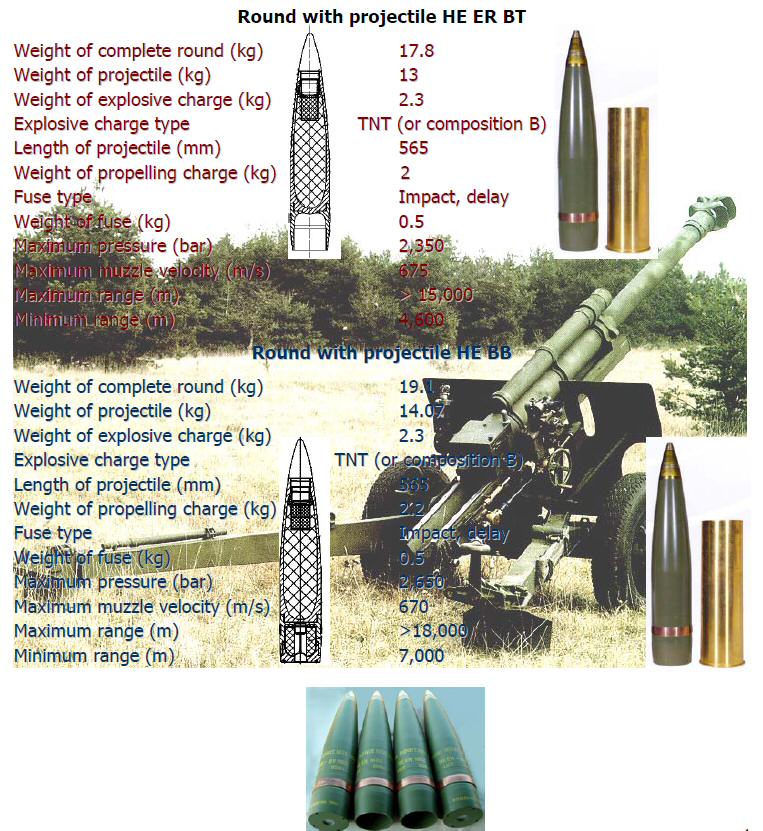 Specification and photos are not contractual and are subject to verification upon inspection