---
100MM TANK AMMUNITION
| | |
| --- | --- |
| TYPE: | Shell |
| DESCRIPTION: | 100mm Tank Ammunition |
| PRICE: | Upon Request |
| PACKING: | See below |

100mm tank ammunition
From New Manufacture

This is a Kinetic Energy Fin Stabilised Round and is fired from 100 mm tank gun for armour piercing.
TECHNICAL DATA(100 MM APFSDS/T)

Complete Round

Weight
20.17 kg
Length
1,022 cm
Projectile
Projectile
Tungsten alloy core with discarding sabot and fin stabilization
Weight of projectile
5.0 kg (approx)
Length
457mm
Cartridge Case
Case
Drawn brase 70/30
Propelling charge
Triple base multi tubular propellant NQ/N.046
Weight
6.00 kg (approx)
Primer
Perecussion type P5 A2
Performance
Effective range
2,500 metres
Muzzle velocity
1,452 metres/sec
Service pressure
3,500 kg/cm2

Accuracy at 1,000 metres:
SD (Vertical)
0.3 mil
SD (Horizontal)
0.3 mil

Penetration
300mm against RHA target at zero obiliquity, conforming to DEF-STAN 95-13/2

Packing

Each round placed in a chipboard container and further packed in a wooden box:
Size of box
121.6 x 23.2 x 27 cm
Weight of box
42 kg
Colour & marking
Service brown with yellow/white stencilling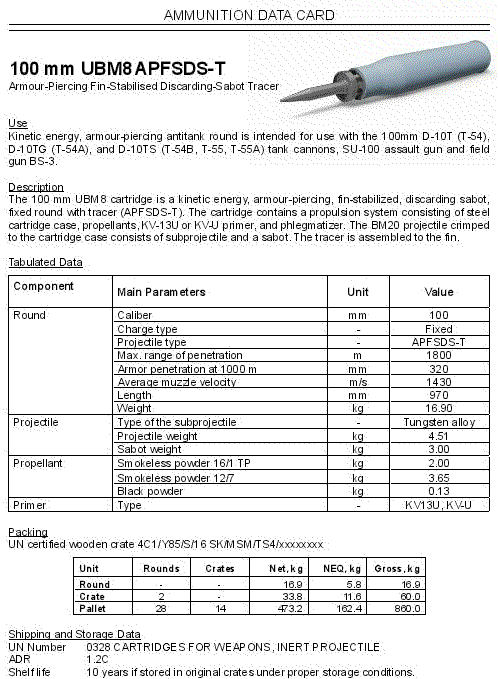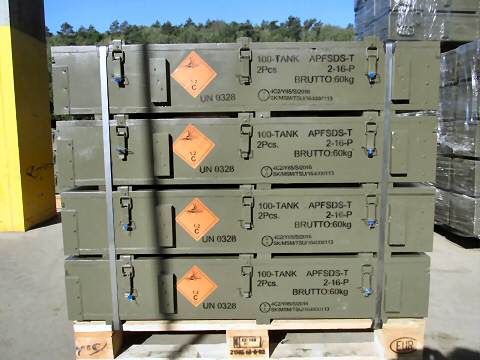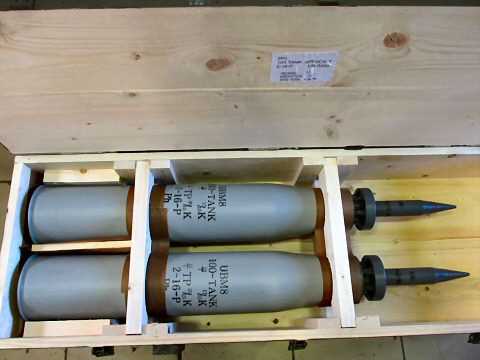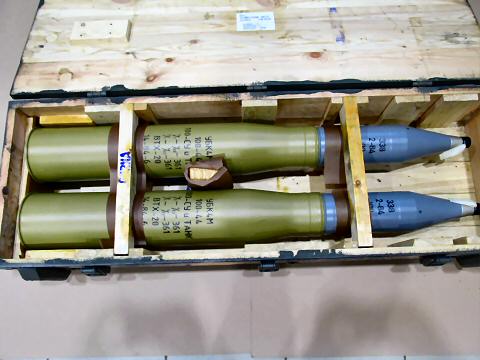 Specification and photos are not contractual and are subject to verification upon inspection
TAKE NOTICE!
PLEASE BE ADVISED THAT INFORMATION INCLUDED IS CONFIDENTIAL IN NATURE AND IS BASED ON PRE-EXISTING BUSINESS RELATIONSHIP WITH THE LEGAL OWNER OF PROPERTY DESCRIBED HEREIN (IF APPLICABLE). AS SUCH, UPON RECEIPT OF SAID INFORMATION THE RECEIVER AKNOWLEDGES THAT ANY UNAUTHORIZED CONTACT WITH SAID LEGAL SELLER WILL BE CHARACTERIZED AS A BREACH OF CONFIDENTIALITY AND SAID AGREEMENT MAY BE ENFORCED UNDER EXISTING LAW OR IN EQUITY.
This paper was prepared by General Equipment Inc.
The paper represents an offer of a partner of General Equipment Inc.
All rights are reserved by and for General Equipment Inc.
All content and ideas of this paper are the property of General Equipment Inc.
---
This transmission may include information on International Traffic in Arms Regulation (ITAR) (22 CFR-120-130) controlled items. These controlled items may not be resold, diverted, transferred or transshipped outside of the United States or to any other country without U.S. State Department approval.
US State Department Arms License: K-5943


Defense items are subject to final destination approval and granting of an
export license issued by exporting country's authorities